• dinosaur • fan art • painttherapy • spiderman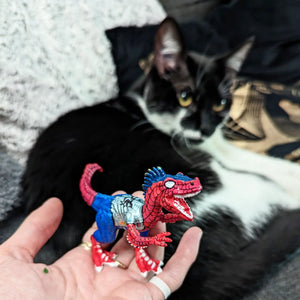 One of my favourite hobbies is to create things into a spiderman character. If you don't already know Spiderman is my favourite, and I might have a collection at home. The weird ones are the ones I like best. My favourite alternate Spiderman you ask? Well hands down is Spider Punk. He has always been my favourite, with his punk rock attitude, and studded jacket. I feel deeper in love when the new Spider verse movie came out. Hobbies, is my man.  I also love dinosaurs. So why not mash them together.  #Spiderpunk Dino, here we come. Cat approved. 🐱🐈🙀...
---
• kissarmy • painttherapy
  A friend of mine came to me and said "Can you turn this into Gene Simmons?" "I'll do my best". This was a tricky little project, layers and layers of black and metallic silver. Long nights and a steady hand were not always easy to come by. I'm pretty happy with how he turned out. I used Crayola magic air dry clay to create the wings and the tongue. With all acrylic paint. Growing up my dad was a huge kiss fan, so this was a close to the heart project for me. As well as a challenge, that...